String Quartet OCD (2015)
For 2 violins, viola, and cello, ca. 20′
Understanding Mental Illness Through Music at TEDxMileHigh in October 2016

The EP release is available from CD Baby, Amazon, and iTunes.
Press and Reviews:
Colorado Public Radio: "Denver Composer Reflects on Postpartum OCD in New Piece"

The Denver Post: "Colorado Composer Turns Experience with Postpartum OCD into Powerful Quartet"
Colorado Public Radio Centennial Sounds podcast: "Loretta Notareschi's String Quartet OCD Explores Motherhood and Mental Health."
CBS 4 Denver: Mother, Composer Suffered Postpartum OCD
5280 Magazine: A Local Composer Uses Music to Explain Her Struggles with Postpartum OCD
Scripps Media: More Than Music: How Composing Song Helped Mother Overcome OCD
303 Magazine: "Review – TEDxMileHighWomen Questions Feminism and the Status Quo"
5280 Magazine: "A Sneak Peek into TEDxMileHighWomen"
Mile High Mamas: "The Gift of Postpartum OCD"
The Mighty: "The Thoughts I Had After Having a Baby Didn't Make Me a Monster."
Deforming Prisms: "Intimate Conversations: Thoughts on Loretta Notareschi's String Quartet OCD and Stephen Bailey's Love Story"
La Musica di Donne: "String Quartet OCD"
AllMusic: "Playground Ensemble String Quartet/Loretta K. Notareschi: String Quartet OCD"
CD Hotlist: "Loretta Notareschi: String Quartet OCD"
Midwest Record: "Disegni: Loretta Notareschi/String Quartet OCD"
Infodad: "Quartets and More"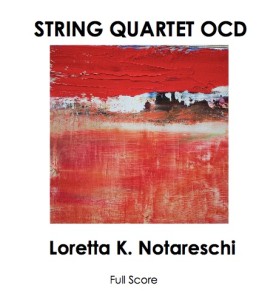 About the Music
In the autobiographical tradition of the string quartet since the time of Beethoven, Loretta Notareschi's String Quartet OCD sketches the emotional landscape of the composer's experience with postpartum obsessive-compulsive disorder in the year following her daughter's birth. Postpartum OCD, which affects approximately 3 to 5% of mothers, is characterized by intense fear and anxiety, in response to which mothers develop repetitive coping behaviors. The first movement of String Quartet OCD, "Intruders," portrays the intrusive thoughts (obsessions) of the disease in all their suddenness and violence. The second movement, "You Must Think I'm Made of Candy Glass," explores the many forms the composer's compulsions took, including verbal and musical patterns that she required herself to repeat in her mind. The third movement, "Shame," expresses the grief and despair she felt. Finally, the fourth movement, "A Second Delivery," traces the jagged path of her recovery from the disease. Although String Quartet OCD dramatizes one person's personal experience with mental illness, it seeks to give voice to the universal fears of all people about our and our children's vulnerability in a dangerous world.
String Quartet OCD was commissioned by The Playground Ensemble and premiered in Denver in February 2016.
Read more about String Quartet OCD and Notareschi's experience in her Essay Before a String Quartet.
| | | |
| --- | --- | --- |
| Score Sample | Printed Score and Parts – $50.00 | |
| | Digital Edition PDFs – $25.00 | |